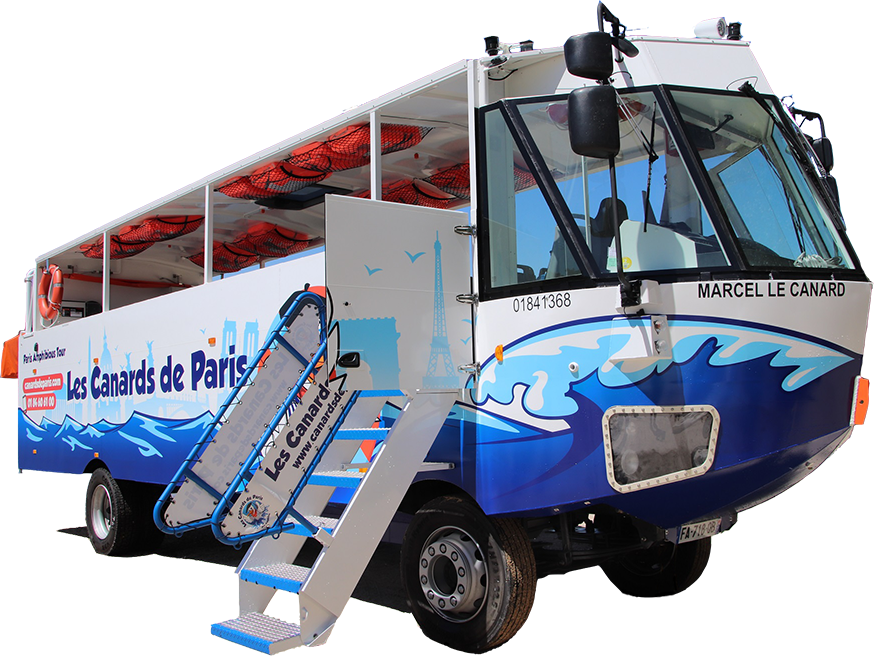 We offer what no one else can : a visit of Paris by land and by the river aboard an amphibious bus.
Visits start and end at the Champ de Mars * (click to see our boarding location). Each visit is approximately 1 hour and 45 minutes long, 20 minutes of which is spent on the water.
Beware, this is no ordinary sightseeing tour ! Our guides are real parisian lovers, willing to take the mic and share their passion in the most memorable and interactive way. These live comments are delivered in French and in English.
* If a special event is held at the Champ de Mars, the departure and arrival location is at Place Vauban. Check this page for further details
From land, you'll get to see some of the most iconic places in Paris : The Eiffel Tower, The Invalides, The Alexander III bridge, The Little Palace and the Great Palace, The Champs-Elysées, the Arc of Triumph and the Trocadero.
Our journey will continue in the department of Hauts-de-Seine, on the royal path the king used to take to go from The Louvre to Versailles.
This will bring us to a former island that belonged to "Monsieur", Louis XIV's brother. This is where we'll enjoy our big splash !
On the water, we'll discover the "Seine Musicale", the Saint-cloud gardens and the skyscrappers skyline of La Defense district.
If we are lucky, we might even get a chance to say hi to the sailboats and kayaks that often sail in the surroundings. We'll then be heading back to our departure location, in front of the Eiffel tower.

See you soon onboard, quack quack !